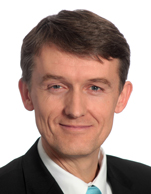 Carsten Wiebers
Head of Maritime Industries department
KfW IPEX-Bank

Dr. Carsten Wiebers heads the Maritime Industries department of KfW IPEX-Bank. The department provides financings for all maritime assets in cruise, offshore and shipping sectors. With its loan portfolio of USD 19.2 bln IPEX-Bank is one of the leading financing institutions in the maritime sector.

Carsten Wiebers joined KfW in 1992 as project manager for KfW's international development finance. He joined the shipping department in 1998. His previous work experience includes international finance institutions, agencies and European corporations with project work in the Americas, Asia and Africa. He completed his doctoral thesis in Agricultural Economics at the University of California at Berkeley and holds a Master's degree from the Technical University of Berlin.