Speaker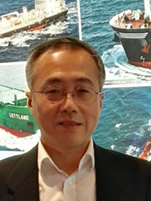 Xu Gang
General Manager of Sumec Marine
Chairman of Sumec Ocean Transportation Pte. Ltd. (Singapore )
Director of New Dayang Shipyard


Mr. Xu joined Sumec Marine in 1991 where he has worked till now. In the last almost 30 years, Sumec Marine had traded and provided financing, technical consulting for more than 300 ships built in Chinese shipyards, until the end of 2018 when they started to own New Dayang shipyard. Sumec Marine also started to become owner from April 2019 through their Singapore entity. Mr. Xu played a critical role in this change and keep on building up Sumec's marine portfolio.

Mr. Xu holds both of bachelor and master degree from Shanghai Jiaotong University, majored in Naval Architect.

General Manager of Sumec Marine which has shipbuilding business about 32 years for international shipowners. Mr. Xu joined Sumec in 1991 when he graduated from Shanghai Jiaotong University with Master Degree in Naval Architect. Before he took the current position in Sumec Marine in 2012, he served as Deputy General Manager since 1996. With his extensive technical and commercial expertise and experience, he managed this company into one of the leading shipbuilding contractor playing very important role in Chinese shipbuilding industry.

Mr. Xu is also the member of the Board of Directors of New Dayang Shipyard which was restructured last August and become the core business of Sumec, and for which Mr. Xu is responsible for the strategy and business development.

Additionally, Mr. Xu is the chairman of the Board of Sumec Ocean Transportation in Singapore which was set up the end of last year aiming to be top qualified tonnage supplier for the industry to strengthen the shipping arm of Sumec in addition to its shipbuilding business.