Speaker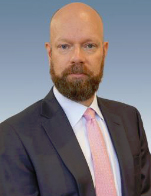 Peter Schulz
Chief Financial Officer
Pacific Basin Shipping Limited


Mr. Schulz joined Pacific Basin as the Group's Chief Financial Officer in August 2017. He has a banking background having served from 1996 to 2012 in various M&A and corporate finance roles in Stockholm, London and Hong Kong with SEB, Dresdner Kleinwort, ABN AMRO/RBS and Royal Bank of Canada. Most recently, he served as chief financial officer of BW Pacific Limited, a product tanker company based in Singapore.

Education & qualifications:
Stockholm School of Economics: Master of Science in Economics and Business Administration Erasmus University Rotterdam School of Management: International Marketing and International Business

Terms of office:
Appointed Executive Director on 30 July 2018 Current term expires at the 2022 AGM

External appointments:
None

Committee membership:
Executive Committee

Responsibilities:
Mr. Schulz is responsible for Group finance and accounting, investor relations, risk management and corporate governance and compliance.