Speakers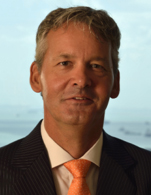 Frans van de Bospoort
Managing Director and Global Head of Shipping
DVB Bank SE

After completing studies in Deventer and Amsterdam (The Netherlands), joined ABN AMRO Bank as trainee in 1991 in the harbour city of Rotterdam. Worked as relationship manager for SME in the Rotterdam Botlek / Europort area with mostly transportation related clients. In 1996 started at NIBC Bank in The Hague, responsible for corporate clients covering a portfolio of international transportation & logistic companies. In 2001 assigned to NIBC Bank's Singapore office and responsible for the bank's shipping and aviation activities in Asia and Middle East. In July 2008 joined DVB Bank SE in Singapore and until December 2015 responsible for DVB Bank's global Tanker Group, leading a team of 15 professionals based in Singapore, New York, Piraeus, Bergen and London with a portfolio of approx 135 international tanker owners with total loan exposure of USD 5.5 bln. In 2016, DVB returned to a geographical model covering all shipping sectors. Since then became the Head of Shipping for Asia Pacific and Middle East and Co-Divisional Head for the Eastern Hemisphere responsible for Asia, Middle East and Greece. As of 1 January 2018 appointed as Branch Manager for DVB Bank SE Singapore.

Since October 2018 in a new role as the Global Head of Ship Finance. DVB has a core shipping portfolio of approx. USD 8 bln spread over 200 international clients, financing around 1,250 vessels. The coverage team consists of 25 experienced ship finance professionals based in the global ship finance hubs Amsterdam, Athens, New York, Oslo, Singapore and Tokyo.