Speakers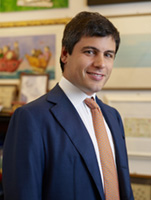 Salvatore d'Amico
Fleet Director
d'Amico Group

Salvatore d'Amico is one of the members of third generation of d'Amico family who works within the Group. He holds a degree in Economics obtained in Rome. He experienced the life on board very young when he begun to sail on the d'Amico vessels for school summer holidays.

During the academic years, he worked with JP Morgan in Geneva before returning to d'Amico Group where he completed his internal training by enriching his professional development in different departments.

After achieving a degree in Economics, he spent two years in d'Amico Dublin office before returning to Rome where he currently holds the position of Group Fleet Director. He is member in many Boards of the Group companies, in particular in d'Amico Shipping Singapore e d'Amico Shipping Italia. He is also the CEO of Ishima since 2013.