Speakers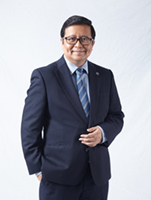 Johan Munir
Chief Finance Officer
AET Tankers

As a member of AET's Executive Leadership Team (ELT), Johan Munir assumed his current position as Chief Finance Officer on 1 April 2018. Johan comes to AET with a wealth of experience gained in the finance, shipping and oil and gas industries, having held a variety of roles in finance, accounting, business planning and operations within the MISC / PETRONAS group of companies.

Prior to joining PETRONAS in 1996, Johan worked for 'Big Four' accounting firm KPMG. His portfolios in PETRONAS and MISC allowed him to venture into accounting and finance for LNG, chemical and upstream overseas operations. His last role was as Managing Director of tank terminals in the Netherlands, a joint venture between MISC and VTTI. Johan joined AET and assumed his current portfolio with us in March 2013.

Johan holds a Bachelor of Arts (Hons) in Accounting and Management Science from the University of Kent. He is a qualified CPA from the Malaysian Institute of Certified Public Accountants.