Speakers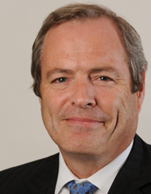 Michael Parker
Global Industry Head for the Shipping
Citi

Mr. Michael Parker has an M.A. in Politics, Philosophy and Economics from Magdalen College, Oxford University, graduating in 1977. In 1996 he attended the Stanford Executive Program at Stanford University Palo Alto. Michael Parker is the Global Industry Head for the Shipping, Logistics and Offshore industries of Citigroup (since 1997), Vice Chairman of Corporate & Investment Banking (EMEA), co-head of the CIB Industrials sector in EMEA and in April 2016 Michael was also appointed Chairman Corporate Banking EMEA. He joined Citibank in 1977. Between 1977 and 1985 he looked after clients' international business in the U.K. construction industry and Citi's relationships with a number of large international oil and mining companies.

In October 1985 he joined Citibank's Shipping Division in London with specific responsibility for remedial management and in early 1989 he took over as Head of Northern Europe Shipping. In January 1997 he was appointed Global Industry Head with responsibility for Citibank's business world-wide. During his 32 years involvement with shipping finance Mr. Parker has been a regular conference chairman, speaker or panellist. Under his leadership Citi receives recognised industry awards across the different areas of shipping finance and he was named Marine Money's Dealmaker of the Year in 2012. March 2015 New York : Capital Link Leadership Award "in recognition of Michael Parker's unique and extensive contribution to the shipping industry".

Mr. Parker chaired the London Committee of Intercargo for a number of years and is involved in UK maritime matters as they pertain to finance. In 2015 and 2017 he served on the Advisory Board of London International Shipping Week and in 2017 was appointed to the Board of The Global Maritime Forum.