2012 HELLENIC CAPITAL LINK LEADERSHIP AWARD
Date: Wednesday, November 28th 2012 - Time: 8:00 pm

Venue: The Harvard Club, 27 West 44th Street, New York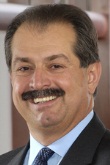 HONORING
Mr. Andrew N. Liveris
Chairman and Chief Executive Officer of the Dow Chemical Company

WITH THE 2012 HELLENIC CAPITAL LINK LEADERSHIP AWARD
for his leadership role as a Founder of the Hellenic Initiative.
Master of Ceremony - H.E. Christos Panagopoulos, Ambassador of Greece to the United States
HONORED GUESTS FROM GREECE
Mr. Costis Hatzidakis

, Minister of Development, Competitiveness, Infrastructure & Networks of the Hellenic Republic.


Mrs. Alexis Christoforous

, News Anchor of CBS News was the Mistress of Ceremony.


Mr. Panos Papazoglou

, Country Managing Partner Greece – CSE South Cluster Leader of Ernst & Young made the welcome remarks.