Speakers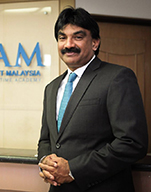 David Fredrick
CEO
Malaysia Maritime Academy

- Chief Engineer (Marine Engineer Officer Class 1)
Mr. David Fredrick started his career with Neptune Orient Lines as a sponsored cadet and worked his way up from a cadet all the way to the rank of Chief Engineer. He was with Neptune Orient Lines for 10 years.

- Technical Superintendent and Fleet Manager with MISC Bhd
Mr. David Fredrick took up a role as Technical Superintendent looking after 5 bulk carriers. He was then promoted to Fleet Manager looking after 10 bulk carriers and subsequently he became Senior Manager looking after a fleet of 30 containers ship.

He spent a total of 14 years in the Fleet Management division looking after the operation and maintenance of MISC Bhd fleet of ships.

- Senior Manager Business Process Improvement
Mr. David Fredrick spent 3 years heading a unit in MISC Bhd looking at business process improvement in fleet management. His team introduced fuel management and fuel efficiency initiatives which brought about a saving of 15 million USD in the first year alone.

He also looked at process improvement for Procurement and Human Resourse Management.