Speakers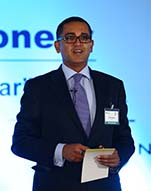 Pankaj Khanna
Chief Executive Officer
Pioneer Marine Inc.

46 years old with 28 years of varied experience in the Maritime & Offshore industry, including drybulk, tankers, LNG & offshore markets.

In "C" roles since 2007 at Alba, Excel, Dryships / Ocean Rig and Pioneer.

7 years in a senior strategic development role at Teekay.

4 year Oil & Tanker Analyst at SSY Shipbrokers.
7 years working on merchant ships.