_functions/speaker_functios.php2023greece[293]
loading modal id bio...
Forum Overview
25th Annual Capital Link Invest in Greece Forum, Accelerating Investments for Sustainable Growth
An International Summit About Greece in New York
The "Capital Link Invest in Greece Forum" is an International Summit about Greece in New York, organized in cooperation with the New York Stock Exchange, the Athens Exchange Group and major Global Investment Banks. It is the longest running investment forum about Greece abroad, engaged in a systematic effort to promote Greece as a business and investment destination to a global audience. It is organized under the Auspices of the Consulate General of Greece in New York and is the only one of its kind that, even during the economic crisis, played a critical role and contributed to the promotion of Greece as an investment destination, as well as the many opportunities it offers.
Greece Heralds a New Dawn of Investments and Entrepreneurship - Updates Discussed During the Forum
Favorable political developments, combined with strong economic dynamics, the prospect of the Greek economy gaining investment grade status and attractive valuations, strengthen investors' confidence in the Greek market. Despite the difficult geopolitical and macroeconomic outlook and the tightening of the European monetary policy, Greece continues its course to modernization while drawing the roadmap of stability and trust pursuing an ambitious reform agenda that will ensure long-term growth for the country and a favorable environment for foreign investments. With positive catalysts, such as the recovery fund, increased private investment, a stronger financial sector and the advantageous position of specific sectors such as tourism and energy, the Greek economy is expected to maintain strong growth in the coming years.
The Forum will showcase Greece's competitive advantages and focus on business and investment opportunities across the major sectors of the economy, as well as the challenges facing the global economy today. The timing for this Forum is excellent.
Top Delegation of Government & Business Leaders Addressing the Who-Is-Who of Wall Street & Main Street
Every year, a delegation of senior government officials, led by the Prime Minister, and a group of private sector business leaders update a global audience on the reforms, developments and outlook of the Greek economy and each of the main sectors highlighting trends, challenges and opportunities. Furthermore, a group of international investors and financiers share their insight on Greece as a Business and Investment Destination.
With a 25-year track record, this Forum enjoys unique branding, acceptance and support by the US, Greek and Greek American business, investment and financial communities.
LUNCHEON KEYNOTE SPEAKERS

FORUM CLOSING DINNER
CAPITAL LINK HELLENIC LEADERSHIP AWARD
BY INVITATION ONLY
AWARD PRESENTATION
&
HONOREE KEYNOTE ADDRESS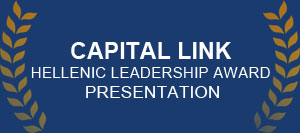 ---
One-on-one Meetings

In parallel to the main sessions, a series of one-on-one meetings are hosted between investors, the management of the participating companies and government officials, providing unique networking opportunities.
Who Should Attend
Management of Top U.S. Corporations with an active interest or involvement with Greece and The Greater Region · Institutional Investors in Greek Equities & Fixed Income Securities · Portfolio Managers & Analysts · Commercial and Investment Bankers · Financial Advisors and Brokers · Financial Media & Press.
Venue Dress Code
Women: Business Casual
Men: Jacket & Tie (Tie is mandatory)
Metropolitan Club has the right to refuse entrance to any guest not respecting above prescribed dress code.
For sponsorship opportunities please contact:
Nicolas Bornozis, President, Capital Link Inc.
Olga Bornozi, Managing Director, Capital Link Inc.
Anny Zhu, Managing Director, Capital Link Inc. at forum@capitallink.com or +1 (212) 661-7566
For more information, please contact:
In New York:
Eleni Bej, Chief Operating Officer at ebej@capitallink.com or Tel +1(212) 661-7566
In Greece:
Victoria Tsoukala, Business Development Manager, at vtsoukala@capitallink.com -
Athena Kosmadaki, Marketing & Media Relations Manager at athensoffice@capitallink.com or Tel (+30) 210 6109800-2