_functions/speaker_functios.php2023greece[293]
loading modal id bio...

CAPITAL LINK HELLENIC LEADERSHIP AWARD DINNER
THIS IS AN OFFICIAL EVENT AND DIALOGUE BETWEEN BUSINESS EXECUTIVES & GOVERNMENT LEADERS OF GREECE AND THE UNITED STATES
VENUE: THE UNION LEAGUE CLUB (38 East 37th Street. New York, NY 10016)
DATE: Monday, December 11th, 2023
TIME: 7:00 pm - 8:00 pm RECEPTION & 8:00 pm - 10:00 pm DINNER
NOTE: There is a fee to attend Capital Link Award Dinner
For more info, please contact Eleni Bej ebej@capitallink.com
Add to Outlook
FORUM CLOSING DINNER
CAPITAL LINK HELLENIC LEADERSHIP AWARD
BY INVITATION ONLY
AWARD PRESENTATION
&
HONOREE KEYNOTE ADDRESS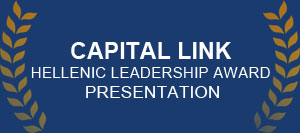 ---
With Nikos Stathopoulos at the helm, BC Partners has invested over € 6 billion to date in Greece, while worldwide it has implemented more than 120 investments, with a total value of more than € 160 billion euro. His insight and trust in Greece having restored its reputation as an attractive investment destination is proven via the investments that have been placed in Greece.